By: Jay Lustig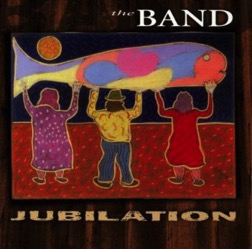 The cover of the album "Jubilation," by The Band.
The first track on the last album recorded by the great roots-rock group The Band, 1998's Jubilation, is written by Paul Jost of Vineland, who I recently wrote about for NJArts.net. It's one of the strongest tracks from the three albums The Band recorded after regrouping in 1983 without original guitarist and songwriter Robbie Robertson. Rick Danko sings with great warmth and sensitivity, and Garth Hudson takes a very pretty accordion solo. And the lyrics, about finding strength from tradition and nature, reflect themes that run through all of The Band's work. Check it out below.
Rock pioneer Carl Perkins also recorded the song on his 1992 Friends, Family & Legends album.
Jost has written of the song: "It's been suggested that the book in 'Book Faded Brown' is meant to be the bible (which it can be), but a heavy hand of religion wasn't my intent. The 'book' is a private trove of values, common sense, and a shared sense of morality that is kept intact by the family. In spite of the push and pull to let go of the book, they remain steadfast in their beliefs and unashamed by the weight and strength of their faith. They are certain of what's right without need of definition, knowing that the correct course and only irrefutable 'right,' is bound by love. The 'book' has been tattered, worn around the edges and faded brown over the years, but is no less vibrant or alive in their family."
The Weight, a group that plays Band music and features two musicians who were in the group at the time of Jubilation and played on "Book Faded Brown" — guitarist Jim Weider and drummer Randy Ciarlante — performs at the Levoy Theatre in Millville on Saturday. And Jost, who recorded the song himself on his 2014 album Breaking Through, will be at the 55 Bar in New York on June 27.
New Jersey celebrated its 350th birthday last year. And in the 350 Jersey Songs series, we are marking the occasion by posting 350 songs — one a day, for almost a year — that have something to do with the state, its musical history, or both. We started in September 2014, and will keep going until late in the summer.
If you would like to suggest any songs to be included, please let me know in the comments section underneath the video. And if you want to see the entire list, either alphabetically or in the order the songs were selected, click here.