paul jost

• Home • Paul Jost Music • Audio • Video • Reviews • Performance Schedule • Purchase CD's • Contact •
---
"...relentless romanticism comes courtesy of Paul Jost's stunning singing. His burnished, soulful vocals are remarkable - daringly inventive and freely expressive in true jazz tradition, but uniquely his own. In both the charted vocalization (wordless vocals) and improvised scatting, Jost's musical soul shines. He nearly single-handedly reclaims the male voice as a valid and critically important jazz instrument, and it's simply thrilling to hear. Swinging breezily, scatting with ease and authority, and softly seducing the listener with a catchy combination of the crystalline soulfulness of Sting and the fearless inventiveness of Mark Murphy, Jost is clearly a man coming into his own. If that comparison seems somewhat glib, just listen to him soar and you'll soon realize what a remarkable accomplishment it is for an original jazz vocalist today to be both accessible and deep."
-Buster Maxwell- "Woman's Journal"
"In an era of male jazz vocalists jousting for position as Rat Pack wannabees and angst-ridden, twenty-something posers, Jost is a sigh of relief. He possesses an abundance of convincing vocal qualities, most notably his ability to deliver fresh, uncontrived readings. Jost's somber rendering of Rodgers and Hart's "I Didn't Know What Time It Was", is drenched with pathos and is astonishingly compelling."
- John Barron - "All About Jazz" (N.Y.)
"Ambitious, experimental, straight ahead, traditional-these words go a short way to describe one of the Philly area's most broad-minded and daring jazz groups. Vocalist Paul Jost's elastic maneuvers transform the songs' expected direction. Antfarm Quartet's Dialogues, Pt. 2, contains impressive arrangements of "The Days of Wine and Roses", "Let Me Call You Sweetheart" and Joe Henderson's "Tetragon", and turns "Put on a Happy Face" into the hippest thing this side of Mose Allison and Han Bennink."
-Ken Micallef - "Philadelphia Weekly"
""...within a short time, the listener becomes absorbed in his highly intelligent, richly emotive, and musically sophisticated renditions. Jost uses rhythm and dynamics to great effect to evoke the variety of moods suggested by the tunes, and the degree of such a swinging force is surprising."
-Victor L. Schermer - "All About Jazz"
Cadence/NorthCountryAudio News
Slim's Pick of the Week
The Antfarm Quartet "Dialogues, Pt. 2"
Right from the git-go, opening with Mancini's "Days of Wine and Roses," The Antfarm Quartet bursts through the gate swingin' and energized. Jost's ultra hip vocals make this a standout date. On an adventure scale of Mark Murphy to Mel Torme, he lurks somewhere halfway between. His occasional scatting sounds natural and unselfconscious -- not always a given mastered feat amongst vocalists. The band sounds both dreamy and gritty on their brilliant rendition of "And I Love Her." Other standout tracks include: "Centerpiece," "Gentle Rain," and "How Insensitive."
Reviewer: Marissa Dodge
www.jazz.com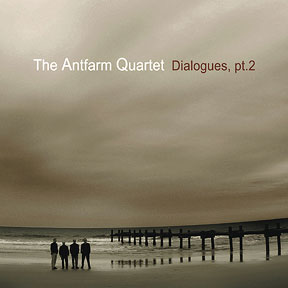 Antfarm Quartet: Dialogues pt. 2
(Dreambox 1057)
Musicians
Paul Jost (vocal, harmonica), Jim Ridl (piano), Tim Lekan (bass), Bob Shomo (drums)
Recorded: Morningstar Studios 2007
Track: "Centerpiece" (go to Audio page)

Composed by Harry Edison. Lyrics by Jon Hendricks
Arranged by Paul Jost
Rarely does a new jazz vocalist inspire me to open a bottle of wine. Grab your corkscrew. Paul Jost is a genuine vocal musician, and the Antfarm Quartet is as cool as the object with which it shares its name. Jost began as a drummer, and added songwriting, and harmonica to his list. With a smokey, tannin-tinged voice, and the soul of an improviser, he brings bouquet and finesse to this hip, blues-fringed arrangement. This piquant quartet is swingin', complex, noble, and memorable; in with an aromatic vamp, velvety vocal, harmonica for body, then Ridl and Lekan's luscious solos, replete with the personality I look for. Jost's ascending line is an elegant finish. The entire CD conveys depth, character, and brilliance; one of the years best in my cellar.
Track: "And I Love Her" (see video)

Composed by Paul McCartney & John Lennon
Arranged by Paul Jost
When a prolific vocalist plants the seed of a down-to-earth pop song in the fertile soil of a copious quartet, it's guaranteed to thrive. This essential adaptation, set in lush Brazilian-influenced terrain, not only does justice to the original, but transcends it. Shomo cultivates a luxuriant groove that compliments Lekan's sensitive presence. Jost opens with a diaphanous, unison riff, as Ridl's rich chords on Rhodes provide the ideal environment for Jost's misty voice. Ridl's lithe piano solo leads to vocal improvs, a natural modulation, and multi-petaled piano lines to fade. Those who might believe that classic pop songs have no place in the jazz garden may change their tune when they hear this hybrid cover. This quartet is of a rare genus and I'd bet the farm on them.
For more info, visit: thejazznetwork.ning.com/profile/pauljost